Your Documents Ready For Filing In As Little As 1 Hour. 1-866-533-4251
Divorce Made Easy.
In online divorce preparation
"Thank you so very much for helping to make this painful time just a little bit easier. You saved me thousands of dollars! "
Jennifer L. California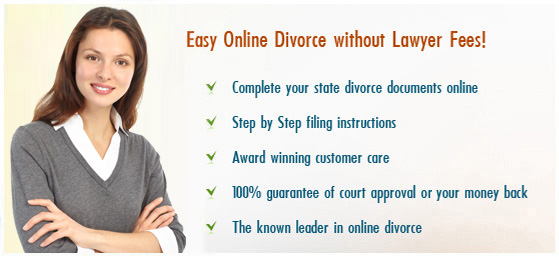 Experience Beyond Comparison
Created by the leading divorce experts in the country, Online Divorce™ exists to provide individuals with a private and affordable uncontested divorce option. In addition to saving you thousands of dollars in attorney fees, we have simplified the process making it easy to understand and quick to complete. Over 30,000 satisfied users throughout the United States.
Customer Commitment Pledge
Online Divorce™ handles all cases with equal care and concern. We understand that this is not an easy time for you and we help by removing the confusion and financial strain of divorce preparation. All cases are reviewed by our expert legal professionals. 24/7 customer care is available should you require it. Online Divorce™ is committed to helping you help yourself.
Online Divorce service is available in All 50 States.

See Service Pricing
Close
A Family law divorce attorney will typically charge you $200/hour resulting in a $4,000.00 total fee. Online Divorce™ charges you $149 with no additional fees for children, assets or alterations to your case.
Your total savings by using Online Divorce™: $3,801.00
Premium Online Divorce Service

Build your necessary divorce documents via our online question-answer process
We provide your professionally created and 100% accurate forms ready for immediate filing
We do not provide blank forms or divorce kits. You will receive completed documents, explanations and instructions. The documents are customized to the state you live in, your children, your income and your assets. Our attention to detail is second to none.
only $149