Online Divorce in Letcher County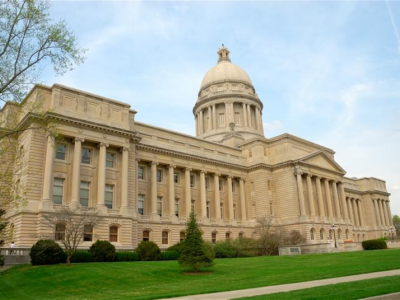 Please note: OnlineDivorce.com in Letcher County, Kentucky, is a divorce document preparation service, not a law firm. Online Divorce is not eligible to provide legal advice. All the information below is for informational purposes only.
Those looking to deal with their dissolution of marriage in a quick and inexpensive way in the state of Kentucky can find it convenient and cheap to prepare their divorce paperwork online. Nowadays, more and more states require divorcing couples to submit their divorce documents either typed or completed online and printed out. Kentucky is one such state. It requires a Certificate of Divorce to be typed rather than hand-written.
Filing for a divorce is the first step on the way to a new life. Using OnlineDivorce.com, divorcing couples can take that first step in a fast and affordable manner without a lawyer and unnecessary expenses. As a divorce documents preparation service, OnlineDivorce.com assists divorcing couples to complete all the necessary legal forms required for their specific state and county where the papers will be filed.
Typically, online divorce is a suitable option for those couples who are ready to proceed with no contest on the major issues pertinent to the divorce, such as child custody, support, and property division. If both parties agree to cooperate and do not want to go to trial, they may have a do-it-yourself divorce. Filing for your own divorce is common for couples who want to cut down on legal expenses. In such a case, divorcing couples can limit the use of legal help and/or mediation to resolve any remaining issues and thus significantly reduce the cost of divorce.
To make sure that your divorce case can be uncontested, answer a questionnaire on OnlineDivorce.com and the necessary forms necessary for your particular case. By following the simple instructions provided by OnlineDivorce.com, you make this first step stress-free and efficient.
Before starting a DIY divorce, spouses are advised to peruse online resources about divorce and family law in their state. They need to get familiar with local rules and legal procedures and understand the step-by-step algorithm of how to get a divorce in Letcher County, KY. Having learned the necessary steps and available options, spouses will understand how to finalize their divorce proceedings in an easy and affordable way.
Here is a short guide on key elements of a Kentucky divorce followed up by some Frequently Asked Questions.